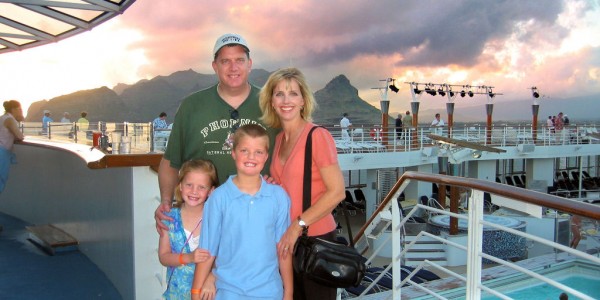 Welcome to Mr Papa's World!!! Thanks for joining us!!!
My name is Steve Klasen (aka Mr Papa) and I am the proprietor of this establishment. The purpose of this website is to give others (mainly family) an insight into my World and that of my family. I (we) use this site to relay family activities and news. You will find the latest news and multiple photo albums from the life and times of Mr Papa's World. There is a family history page complete with a genealogy pedigree tree. Some day, I hope to get others within the family posting here too, but they tend to be computer challenged. You will also see me post on seemingly random topics that are whirling around in my mind. Perhaps others may find some of my posts here to be informative and/or useful.
I am married (Suzanne) and have two kids (Sean and Savannah). We live up in the mountains in rural Arizona in a place called Sonoita. In days past, Sonoita was a heavy cattle ranch area. Today, there are still a fair number of hobby ranchers that reside here. It is also the wine country of Arizona, which is convenient since Suzanne and I enjoy a good bottle of wine now and then. Many films have been made in this area. Some of the more notable ones would be Red River (John Wayne), Oklahoma, and Tin Cup.
If you frequent Mr Papa's World, you will see a bunch of stuff on cruising as its how we spend most of our family vacations. Suzanne also has her own Cruise Talk Central blog and her own cruise travel agency.
How did I come to be known as Mr Papa? Well, my kids have always called me Papa, so that part was easy. I am also into gaming (though it seems less and less these days), so when it came time to connect our Xbox (and now Xbox 360) to Xbox Live to play against others, I had to choose a nickname. My son suggested just Papa, but that didn't sound good enough. After some discussion, he jokingly said "Well, then just call yourself Mr Papa". Well, the name stuck. Now, I tend to use the name anywhere I go on the internet. If you see something from Mr Papa, i's probably me. FYI, due to Microsoft mess up (surprise, surprise, surprise), I now go by Mr Papa 360 on Xbox live.
Another place you may see my is over working on my other life – as half owner of Simple:Press LLC. That is my web based business for developing a web application that lets you put a forum on your WordPress blog. I love working on Simple:Press as it keeps my mind constantly learning and my computer skills sharpened since I no longer get to do that sort of stuff at work.
If you have any questions, comments, or suggestions, just click on Contact link at the top and drop me a note. If you want to be kept abreast of the goings on here at Mr Papa's World, you can click on Sign up for Updates in the sidebar and you will receive an email when something changes on the site.
Sit back, relax and enjoy the ride!