On Friday, April 1, 2011, our daughter Savannah placed 11th at the Arizona state level National Geographic Bee competition. She qualified for the bee by winning the school bee, then score high enough on the written test to qualify for the 100 or so positions at he state bee. At the state bee, the competitors are divided into 5 groups of 20 to compete in preliminary rounds. The top 10 with the most correct answers regardless of which preliminary rooms in which they competed qualify for the final round. Of the 100+ competitors, 7 answered all 8 of the preliminary bee questions correctly. About 15 competitors, including Savannah had missed just one question and went to the tie breaking round. At the tie breaking round all students answered the same question by writing it on a paper. She was unfortunately eliminated when there were two positions left and just 5 competitors. That put her in a 3 way tie for 11ths with the other two competitors that were eliminated in that round. The remaining contestants made it to the final round.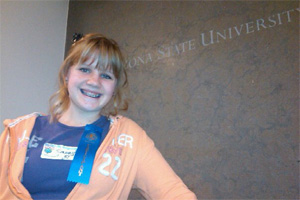 For the final round the 10 competitors answer both individual oral questions and some written questions for all competitors. Competitors are eliminated when they miss two questions during this round. Where there are only two competitors left they start over in a head to head round with two misses allowed. The young man who came in 3rd placed first last year. The young man who eventually won was last year's runner up.
He will go on to a free trip to Washington, DC to compete in the national bee with competitors from the 50 states plus US territories. After qualifying rounds the 10 finalist will compete in a televised competition hosted by Alex Tribek.
We are very proud of Savannah for doing so well. She plans to continue her geographic studies with the goal of making the finals next year.