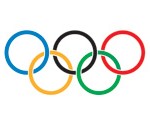 I have mentioned this before, but I have been thoroughly enjoying the Olympics this year. The past couple of Olympiads, I have had a hard time getting interested. A large part has been the crappy coverage. This year, there is more sports and less human interest stories and fluff. Unfortunately, this Olympics has also been causing a good deal of sleep time to be missed. I am finding myself staying up way too late at night watching instead of going to bed. And it doesn't matter what time I go to bed, I tend to wake up at 5:30.
The primary NBC coverage begins at 7 and usually lasts until 11. That might not be so bad if I went to bed then. However, at 11:30, the Olympics coverage switches over to the USA Network. Quite frankly, they have been doing an even better job than NBC. That is, they show almost non-stop events.
Last night, for example, they had on the awesome beach volleyball match between the two Chinese teams. The winner would face the USA team for the Gold Medal. It was a very intense match see-sawing back and forth – quite enjoyable. They followed it with some table tennis. Being a former college dorm champ in table tennis, I found it quite enjoyable. Past nights have included badminton, field hockey and polo amongst others.
Alas, the Olympics come to and end this weekend and I can hopefully get back to a normal sleep pattern. Until then though, it looks like a few more late nights.