I finally figured out last night what I was getting for Christmas this year. I am difficult to buy for because I dont need much and I usually want some kind of gadget or toy. So, each Christmas, my Mother and my in-laws send me a check for Christmas to pick out something(s) that I want. It works out very nice and I am very appreciative of the thoughts. In addition, if I want something big, Suzanne will usually throw in whatever money we agree to spend on each other into the pot.
This was a tough year trying to come up with something for Christmas. Now, its not that I dont want anything, its just most things I want are very expensive :whistle: like a new computer. Plus my son and I are both into a lot of the same things and he is already getting some of my desires for Christmas – what a plan. :angel:
Suzanne is actually the one who came up with the final idea. However, there is no way she could have picked out the actual product. Ever since setting up a nice theater room, I have been enamored with those fancy do it all remote controls. I really hated having four – six remotes sitting on the table. When we moved into our current house, I made the jump and bought a Philips Pronto TSU-3000. I was in heaven. It had an LCD touchscreen and some fixed hard buttons. The remote controlled everything including the lights in the room. And the geek in me was happy too because the remote is programmable. I spent hours, days and weeks on the computer tweaking that sucker and making it look just the way I wanted to. :wub:
Well, about four months ago, the Pronto gave up the ghost and died on us. Its been remotes laying all around every since. I wasnt very happy about spending big bucks on a remote and it only lasting three years, so I didnt buy another one. I also wasnt willing to settle for one of the more traditional all in one remotes. I dont want to remember what button does what depending on the setting of another switch. The Pronto LCD graphics were so much better than that.
Well, when Suzanne mentioned I should get a new remote, I went into research mode. I was all over the internet searching for the perfect remote for me. I used to be active over at Remote Central when I was doing Pronto stuff so I did a lot of reading there again. I looked at existing products and new products. These new remotes do even more, but of course, still have a big price tag.
My old Pronto TSU-3000 is still available and a lot cheaper now, but its old greyscale LCD has been replaced by color screens. Pronto has the TSU 7600. But, since the last one only lasted three years, I wasnt really in favor of a Pronto again. I looked at the other big hitters: Universal Remote Control, Marantz, Sony, Nevo, etc. etc. etc.. I also looked at a relatively new entrant, the Logitech Harmony line.
I was pretty amazed at what I saw from Logitech. I am quite familiar with their products from the computer world, so I wasnt too worried about a fly by night company. The more I looked, the more interested I become. Some of their early products were shakey at best, but each new iteration improved and included feedback from customers. I cant say that about the Pronto product line as they all but ignored customers as I recall from Pronto days.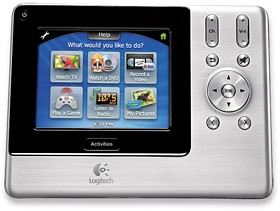 Then I saw their newest product due out in early December. The Logitech Harmony 1000. Click on the image to the right to open up a new window with all the details of the unit. I liked the sleek look. Its a little bigger than most folks would want, but that has advantages. It wont get thrown around and abused like the little remotes (I hope). There wont be any issues with seeing the buttons in the dark.
I had two concerns about the unit while looking at it. First, it was a new model. I always worry about brand new models. Since it was new, there also werent any really detailed reviews of usage like older models. The previews were all positive, but one never really knows until the final product is in your hands and you get some time on it. Being familiar with Logitech, I was able to dismiss this one. The second concern was the level of customizations that I could do. With the Pronto, it was almost like programming a computer to do what you wanted it to do. The Logitech info talks about making it simple for the average user. Oh oh, I am not average and dont want it simple :w00t:. That usually means I cant "customize" it. Several of the previews I read allayed the fears a little bit when they talked about the web based design interface, but I am still a bit worried.
We shall see as I went ahead and ordered one. Merry Christmas Mr Papa! I will be sure to let you know how it all works out. It appears that Logitech has shipped the unit to retailers as planned. Mine is scheduled to arrive in late December, so it may not make it under the tree.