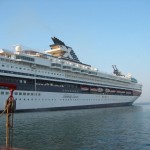 Looks like we have finally zeroed in on what excursions we are going to do on our upcoming cruise to Mexico this coming November on the Celebrity Mercury.
On one hand, we did this same Celebrity Mercury Cruise itinerary three years ago, se we dont really want to the same things or even things that are similar. On the other hand, we didnt take the kids on that cruise three years ago, so we dont want to short change them either. We also want to balance the cost of doing excursions a bit. They can significantly add to the cost of a cruise. We would much rather take another cruise than have a big excursion bill. The cost also comes in to play when one considers that we just cruised to Hawaii on the Celebrity Infinity last Thanksgiving and will be cruising to Alaska on the Celebrity Mercury next June. We are also hoping to cruise to New Zealand in 2008, so we decided to try to minimize the excursion costs this go around.
This cruise is an 11 night round trip cruise from San Diego down the Mexican Western coastline. We have ports of call in Cabo San Lucas, Mazatlan, Puerta Vallarte, Acapulco, Zihuatanejo and Manzanillo. This is what we have decided to do in each of those ports:
Cabo San Lucas – Take a water taxi to the famous El Archo , the nice rock formations on the very tip of the baja peninsula.
Mazatlan – We are going to check out some folkloric dancing troupes while enjoying a nice lunch. Suzanne, Sean and Savannah currently take folkloric dancing classes so they should really enjoy this. We should still have time enough to also go to the beach.
Puerto Vallarte – We will purchase some day passes at one of the local hotels. You pay a fixed fee for the pass which gives you the rights to use the hotel facilities including pool and beach. You also get some food and drinks included.
Acapulco – Here, we will visit some Mexican history museums that the kids really want to see and go watch the famous cliff divers. If time permits, we might do some snorkelling but want to be back on the ship for the Mexican fiesta before the night departure.
Zihuatanejo – We will get another day pass at a local hotel and enjoy the beach once more. The plan includes taking a water taxi to the beach as opposed to a land based taxi.
Manzanillo – We dont have any big plans here. We will probably do some souvenir shopping here.
This should be an enjoyable cruise and vacation. The family is looking forward to it even more as the date approaches. Now, with these plans finalized, Suzanne can start working on the excursion plans for Alaska. I doubt we will get off this easy on that cruise since it will have been 14 years since our last cruise to Alaska. In addition, we will be travelling with other family members and will probably just try to match their excursion plans.