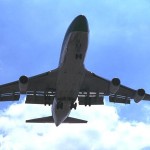 Occasionally, I travel for work. Luckily, its not too often. However, over the next couple of months that's going to get stretched a bit and I will be travel weary. No problem keeping my Gold (and potentially Platinum) status this year.
It all starts around the end of this month with a trip to Tampa for my Grandmother's 90th Birthday. Obviously that's a personal trip, but it starts the string of travel. The following week I will be going to Dallas for business trip. The week after that, its off to Washington DC for another business trip. One of the following two weeks is shaping as a business trip to Hawaii, which is not quite as glamorous as it sounds, but it is still Hawaii.
In October, there is the potential for another business trip to DC and another trip to Hawaii. Plus, sometime in October or early November, there will be a business trip to Germany. And that's just the ones I know about right now. Whew!
I also cannot forget our upcoming flight to Barcelona, Spain for our family cruise in late November. Or the recent business trip to Florida a week ago. That is a lot of travel for me. Good business opportunities, but just tiring trips. I am going to really need that 16 day transatlantic cruise come the end of the year.