We have been doing some research on lodging and stuff for our upcoming trip to the Grand Canyon during the family reunion here in Arizona. Suzanne and I have been there before, but none of my other family has so we want to do it right for them.
Suzanne's Mother Anne sent us some info on an upcoming attraction being built at the Grand Canyon. Now the article where this was found said it was opening Jan 2006, so it might be open. I will have to look into and see if is or not. It was very intriguing so I thought I would blog about it for the family members to see and judge if there was any interest in visiting during the family reunion trip to the Grand Canyon. The image below is an artist's rendering of what it was supposed to look like when finished.
Grand Canyon Skywalk
Scheduled to open Jan. 1, 2006 Hualapai Indian Reservation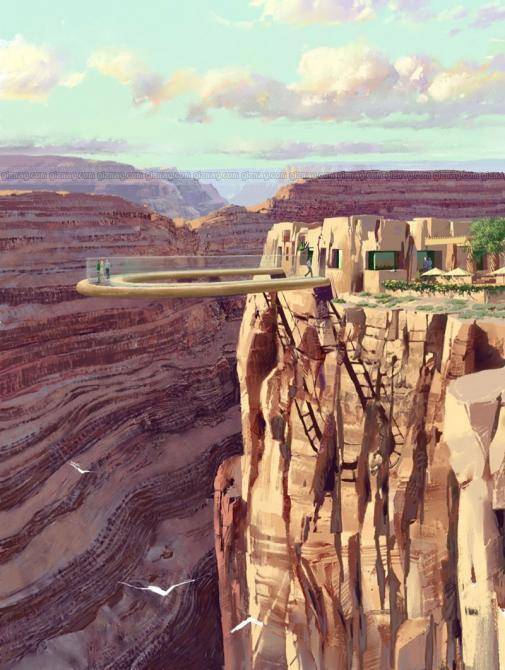 Some tidbits about the attraction:
Juts about 70 feet into the canyon, 4000 ft above the Colorado River
Will accommodate 120 people comfortably (how comfortable would you be?)
Built with more than a million pounds of steel beams and includes dampeners that minimize the structure's vibration
Designed to hold 72 million pounds, withstand an 8.0 magnitudeearthquake 50 miles away, and withstand winds in excess of 100 mph
The walkway has a glass bottom and sides that are four inches thick
Below is a map that shows where in the Grand Canyon this bridge is located. Sounds great and I would love to walk out there though I am not sure it would be worth $25.