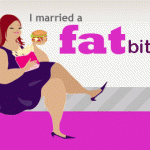 First and foremost, I am not claiming what that image says. In fact, I had some trepidation about doing this post, but after the initial shock (and laugh) its a serious site. Recently, on the open source WordPress forum plugin that I help develop, we had a support request from a site called I Married A Fat Bitch.
My first instinct, on seeing the support request, was that is was spam and it should be deleted. But, I went and checked out their issue (which is real, but not likely related to our plugin). I was still very curious about this site. A quick check of their About Page will give you a good laugh, despite the seriousness of the site.
Like I said, this is indeed a real site. And as an overweight husband, its my wife who would have the right to make a similar statement (weight wise anyways – not the bitch part) about me, I have to admit I found myself laughing out loud and reading more. I may have to check it out further.
Personally, I would be a bit more politically correct (and my friends would laugh at that) to present the info, but the site name is certain to draw visitors and might actually end up keeping a few visitors around to follow developments.