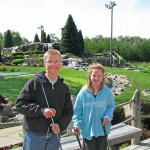 Sean's Birthday was last Thursday, but today we had his fun day. Most of the presents were opened last week, but today was his day on the town. As previously mentioned, the kids get a party with their friends every other year and then on the other year, we have a family day.
It started today with a morning of video games. He spent the morning playing some of his new Xbox 360 video games. For presents, he received Madden 09 (yes, we took the plunge again), Bourne Identity and Civilization Revolutions. He has enjoyed all of them. He and Savannah spent 2 or 3 hours this morning alone playing Civilizations. She has even tried a game or two herself. I remember the game from the PC days and still looks as addicting as I remember.
I spent a portion of my morning getting an ailing PC back working. Somehow (situation normal with Windows) a file got corrupted. I set up Windows to run chkdsk and repair the file upon reboot. Evidently, there must have more corrupt files as Windows refused to boot. Finally, had to boot to Windows CD and run chkdsk from the recovery panel. Luckily, it worked and everything seems back to normal. Back to the Birthday festivities…
After a light lunch, we headed of to town for some fun. First, we caught a movie. After some indecision and sadness from Savannah, Sean decided he wanted to see the new Mummy 3 movie. It was an excellent choice. The movie was very enjoyable – a nice mix of action and comedy. They also had a nice way of introducing the new actress (Maria Bello) playing Evie, but I will leave that for you to see in the movie. I still did miss the "old" Evie, but the movie is a winner. I can't wait to see it again on my Blu-Ray. Yes, you will have to suspend reality once again, but that's fine for me and movies. Of course, Savannah ended up enjoying the movie too.
After the movie, we went and played miniature golf. The weather cooperated too. It was 4:30 in the pm, so could have been hot and humid being the monsoon season. The temperature was a nice mid 80's and it was slightly overcast, so the sun didn't even beat down on us. Mr Papa managed to pull of a four stroke victory in the miniature golf tourney. Sean took third due to a couple of bad holes.
We finished our day off at Buffalo Wild Wings for dinner. We kind of thought Sean would pick a nicer place just cause we don't get out very often, but we all do enjoy that place, so everyone was fine. We had some nachos, wings, popcorn shrimp and pulled pork sliders (like the mini White Castle burgers). Very good indeed, plus they had some preseason football on the TV at our table.
Back at home, unsure how we will close out the day. The kids want to play a board game, but Suzanne wants to watch the closing ceremonies of the Olympics. Either way, its been a fun family day in celebration of Sean's 12th Birthday.